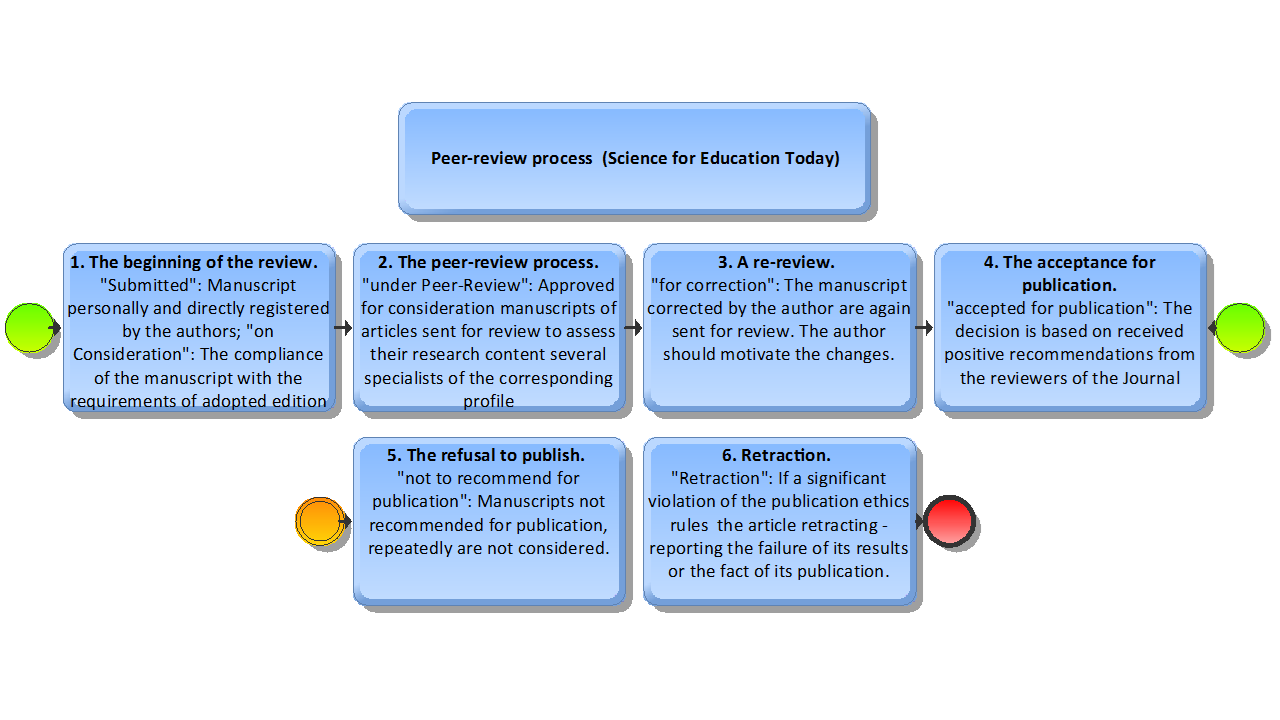 The Journal peer-review process  
1. The beginning of the review.  Manuscripts of articles registered by the authors (personally and directly) on the site receive the status "Submitted". Submitted manuscripts are checked for its conformity with the Thematic Areas and requirements of the Journal.The beginning for the calculation of the period of review is the assignment of a registered article status "on Consideration" (on the website records the date of reception of the manuscript for consideration). The status confirms the compliance of the manuscript with the requirements of adopted edition. (See. read more: the General order of Article Processing in Journal)
2. The peer-review process. Approved for consideration manuscripts of articles sent for review to assess their research content several specialists of the corresponding profile (at the same time is assigned a status - "under Peer-Review"). The total period in accordance with the international practice and recommendations of international ethical committees to 1 month from the date of transfer of the manuscript for review. The Journal peer-review process ensures that reviewers are independent of the authors, i.e. not affiliated with the same institution.
3. A re-review. If you received the recommendations of the reviewers of the Journal decided "to recommend taking into account corrections of deficiencies noted" that the author sent recommendations and issues for correction. The manuscript corrected by the author are again sent for review. The author should motivate the changes.
4. The acceptance for publication. The decision about acceptance for publication is based on received positive recommendations from the reviewers of the Journal (at the same time are assigned the status "accepted for publication").
5. The refusal to publish. If you received the recommendations of the reviewers of the Journal decided "not to recommend for publication", the author receives a reasoned refusal to publish. Manuscripts not recommended for publication, repeatedly are not considered.
6. Retraction. If a significant violation of the publication ethics rules is found after the publication of the article in the Journal, the Editorial Board of the Journal will initiate a procedure for revoking (retracting) the article (reporting the failure of its results or the fact of its publication).